At the Friends of NorthKey Community Care annual Apple Blossom Brunch held at Receptions in Erlanger on Sunday, April 22nd, Ms. DeAnn Braden received the Ray of Hope Award for her excellence as a Peer Support Specialist.
Peer Support Specialists are a special group of individuals that help NorthKey to achieve their mission of transforming lives and communities through excellent services in mental health, substance abuse, and developmental disabilities.  A Peer Support Specialist is an individual that has dealt with significant life experiences with mental illness or substance abuse issues that has been trained through a partnership with Mental Health America of Northern Kentucky and Southwest Ohio.  They are a great role model for self-help strategies based upon their own recovery experiences and are excellent at teaching real life skills on how to cope with mental illness or substance abuse problems.  Peer Support Specialists help patients navigate the delivery system by advocating for the needed services and help the individual as they develop and implement a personal recovery plan.
It was noted during the event that DeAnn is considered a hero among staff because of her success in her own recovery and she is willing to share her own life experiences with others to help them in planning and achieving their own personal recovery.  DeAnn has been a very outspoken advocate for NorthKey, Mental Health America, and for all those that have faced the challenge of overcoming their own mental illness.  She has been a voice and inspiration for others.  Recently, DeAnn was invited to be a speaker at the 2018 874K Event in Frankfort at the Capitol Rotunda to represent more than 874,000 Kentuckians living with a disability.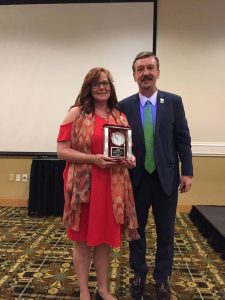 Pictured from left to Right: DeAnn Braden and NorthKey CEO Dr. Owen Nichols