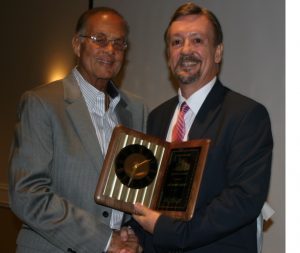 At the Friends of NorthKey Community Care annual Apple Blossom Brunch held at Receptions in Erlanger on Sunday, April 23rd, Mr. Burr Travis received the Ray of Hope Award.
Dr. Owen Nichols, President and CEO of NorthKey Community Care, said in his remarks at the event that Mr. Travis has been a tremendous friend to NorthKey and a true community advocate for those fighting an addiction.
Mr. Travis approached Dr. Nichols about five years ago with an interest in creating a program to address the number of individuals in jail in Northern Kentucky on minor drug charges and expediting their entrance into substance abuse treatment.
At that time, Mr. Travis was looking at retiring from his long-term law practice as a partner in the firm of Busald, Funk, and Zevely located in Florence, Kentucky.  When he did semi-retire, he went to work for the Kenton County Commonwealth's Attorney's Office with Mr. Rob Sanders.  Shortly thereafter, Mr. Travis contacted NorthKey Community Care and told them that the Kenton County Commonwealth's Attorney's Office was ready to move forward with an expedited release program for those facing minor drug related charges.  Thus, the HEART Program (Heroin, Expedited Addiction, Recovery and Treatment) was born in May 2015.
The HEART program involves clinicians from NorthKey Community Care who conduct level of care assessments on individuals arrested on minor drug related charges that are in the Kenton County Jail, and then those clinicians develop treatment recommendations for individuals.  The level of care assessment and treatment recommendations are presented to the court handling the proceedings, and then the person charged with the minor drug offense is released from jail on the condition that they participate in substance abuse treatment rather than remaining in jail.  This program has reduced jail time from several weeks to just a few days.
Since implementing the program in Kenton County in May 2015, approximately 600 individuals have been released from jail and have entered into substance abuse treatment.  Dr. Nichols said that the success of this program is clear when you consider there have been ZERO overdose deaths among those individuals released from jail through the HEART program, and fewer than 5% of those released from jail through the HEART program have been re-arrested following their release into a treatment program.
During the event, Mr. Travis was described as a community hero for coming up with a creative solution to an extremely difficult community problem, which is why he was selected by the Friends of NorthKey Community Care to receive their Ray of Hope Award.  Mr. Travis has always been an active member of his community and has been recognized many times over the years for his contributions.  During his career he has received the Oasis Life Achievement Award, Kentucky Association of Criminal Defense President's Award, and the Transitions Coffee Can Award, to name just a few.
The Friends of NorthKey Community Care started working to reduce the stigma attached to mental illness and substance abuse approximately 47 years ago.  NorthKey Community Care is a part of the Northern Kentucky Mental Health—Mental Retardation Regional Board, which provides a full range of behavioral healthcare services throughout the eight county region of Northern Kentucky (Kenton, Boone, Campbell, Carroll, Gallatin, Grant, Owen, and Pendleton Counties).  NorthKey provides services to approximately 11,000 individuals annually to address the mental health, substance abuse, and developmental disability needs of Northern Kentucky.  For more information regarding NorthKey Community Care, please visit their website at www.northkey.org.